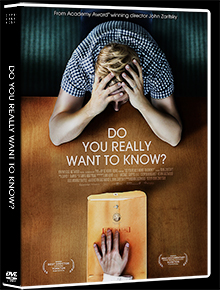 BUY DVD
WATCH THE TRAILER
"Do You Really Want To Know?" on DVD
Do You Really Want To Know? is now available on DVD in Canada (English, Dolby 5.1, 72 min). To buy your own copy today, visit our friends at Hello Cool World or click on the BUY DVD button.
Outside Canada, our home video release will be on iTunes. Watch this space for the release announcement, or follow us on Facebook or Twitter or sign up for our mailing list at the bottom of this page.
Non-profit organizations or educational institutions wishing to screen Do You Really Want To Know? please go to our contact page to make your inquiry with the appropriate distributor for your region.